We are the leading geodesic dome tents manufacturer and supplier in India. Our commitment to superior craftsmanship, durable materials, and exceptional customer service sets us apart as the best choice for all your geodesic dome tent needs. Whether you're planning a unique event, setting up a glamping site, or looking for an eye-catching structure, our geodesic dome tents are the perfect solution.
What is Geodesic Dome Tent?
Geodesic dome tents are innovative structures characterized by their spherical shape and interconnected triangular panels. Inspired by the architectural principles of Buckminster Fuller, these tents offer outstanding strength, stability, and versatility. Geodesic dome tents have become increasingly popular due to their striking aesthetics and ability to withstand harsh weather conditions. They are ideal for various applications, including outdoor events, eco-resorts, disaster relief shelters, and more.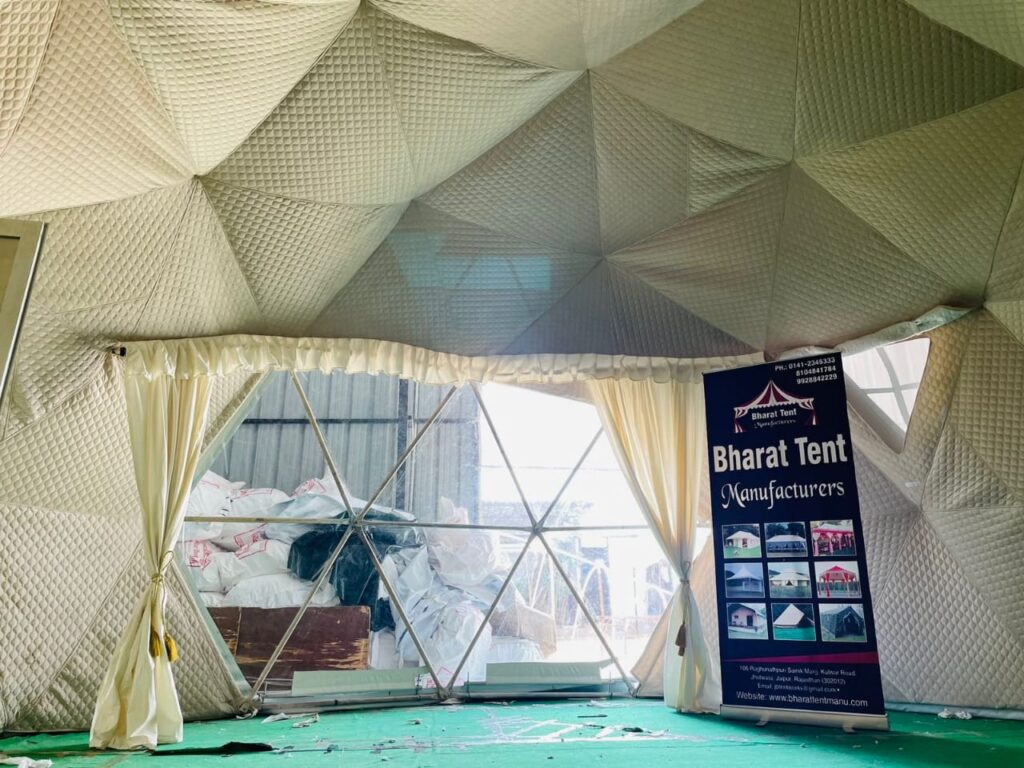 Why Bharat Tent Manufacturers is best for Geodesic Dome Tent?
Uncompromising Quality: At Bharat Tent Manufacturers, we prioritize quality in every aspect of our geodesic dome tents. We use premium materials that are weather-resistant, durable, and long-lasting. Our tents are crafted with precision and attention to detail, ensuring they meet the highest standards of excellence.
Customization Options: We understand that every project is unique, and that's why we offer customization options for our geodesic dome tents. From size and color to branding and additional features, we work closely with our clients to create tailored solutions that perfectly match their requirements.
Expertise and Experience: With years of experience in the industry, we have honed our skills and expertise in manufacturing geodesic dome tents. Our team of skilled professionals is passionate about delivering exceptional products and services, ensuring complete customer satisfaction.
Timely Delivery: We value your time and understand the importance of meeting deadlines. When you choose Bharat Tent Manufacturers, you can count on prompt delivery of your geodesic dome tents, ensuring your project stays on track.
Competitive Pricing: We believe that superior quality should be accessible to all, which is why we offer competitive pricing without compromising on craftsmanship. Our geodesic dome tents provide excellent value for your investment.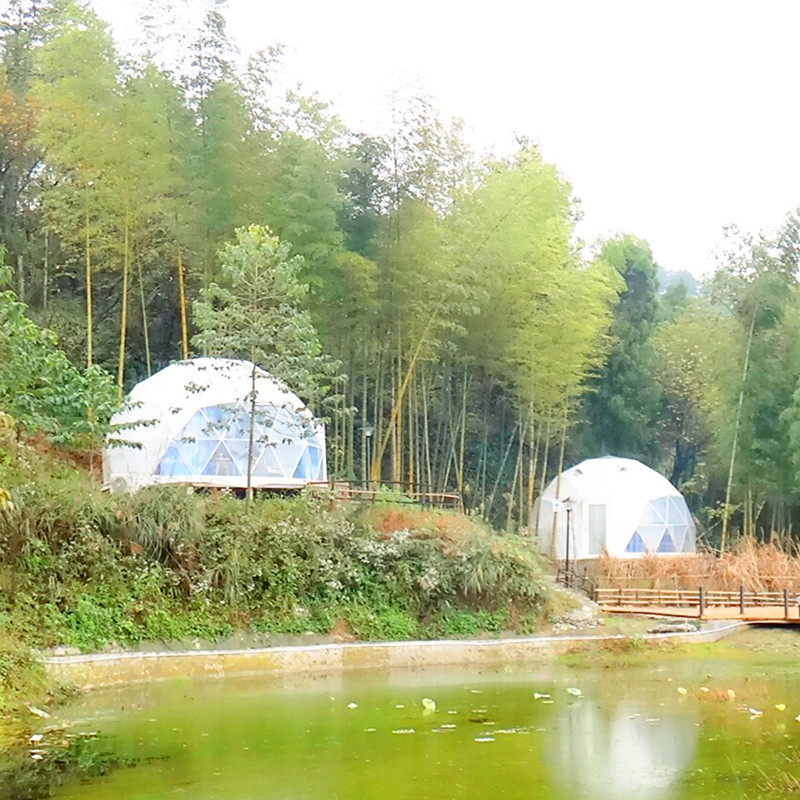 Geodesic Dome Tent Price in India
The price of geodesic dome tents in India can vary based on factors such as size, customization options, and additional features. At Bharat Tent Manufacturers, we offer competitive pricing for our geodesic dome tents, ensuring affordability without compromising on quality. For detailed pricing information and a personalized quote, please contact our sales team.
How to Buy Geodesic Dome Tent
Purchasing a geodesic dome tent from Bharat Tent Manufacturers is a straightforward process. Follow these simple steps to acquire your very own geodesic dome tent:
Consultation: Reach out to our sales team either by phone or email to discuss your requirements, including size, customization, and any specific features you desire for your geodesic dome tent.
Quotation: Based on your consultation, we will provide you with a detailed quotation that includes the price, delivery timeline, and any customization options discussed.
Confirmation and Payment: Once you are satisfied with the quotation, confirm your order and make the necessary payment as per the agreed terms.
Manufacturing and Delivery: Our skilled team will start manufacturing your geodesic dome tent according to your specifications. We will keep you updated on the progress. Once ready, your tent will be delivered to your designated location within the agreed timeline.
Installation and Support: If required, our team can assist you with the installation of your geodesic dome tent. We also provide after-sales support to address any queries or concerns you may have.
Contact Us: +918104841784, +919928842229
FAQs on Geodesic Dome Tent Suppliers
Q1: What materials are used in the construction of geodesic dome tents?
A: Geodesic dome tents are typically constructed using high-quality materials such as galvanized steel, aluminum, or PVC. These materials offer excellent structural integrity, durability, and weather resistance.
Q2: Are geodesic dome tents suitable for all weather conditions?
A: Yes, geodesic dome tents are designed to withstand various weather conditions, including strong winds, heavy rain, and even snow. The unique structural design and use of robust materials make them highly resilient.
Q3: Can geodesic dome tents be customized to suit specific requirements?
A: Absolutely! At Bharat Tent Manufacturers, we offer customization options for our geodesic dome tents. You can choose the size, color, branding, and additional features according to your specific needs.
Q4: How long does it take to manufacture and deliver a geodesic dome tent?
A: The manufacturing and delivery timeline of geodesic dome tents can vary depending on factors such as size, customization, and current production capacity. Our sales team will provide you with an estimated timeline during the consultation process.
Q5: Can you provide installation assistance for geodesic dome tents?
A: Yes, our team can provide installation assistance if required. We have experienced professionals who can ensure the proper setup of your geodesic dome tent. For any other questions or inquiries regarding geodesic dome tents, pricing, or customization options, please feel free to contact us. We look forward to serving you and providing the perfect geodesic dome tent for your needs.